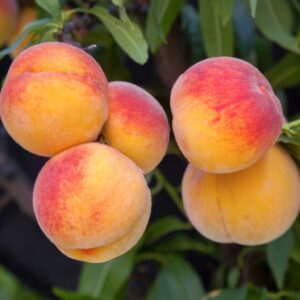 The Essential Guide to Picking the Perfect NJ Peaches
Peach picking in New Jersey is a delightful experience. Imagine standing in the open air, surrounded by the vibrant colors of the orchard and the prospect of bringing home some of the tastiest peaches in the country. It's an enjoyable activity for everyone, regardless of age.
What to Wear When Peach Picking in New Jersey
Peach picking is an active pursuit that demands appropriate attire for comfort and safety. Choose light, breathable materials such as cotton or linen to keep cool under the summer sun. Jeans are recommended to protect your legs from any rough or prickly branches. For footwear, opt for closed-toe shoes, such as sneakers or boots, to safeguard your feet from uneven ground or fallen fruit. To shield your skin from UV rays, wear a wide-brimmed hat and sunglasses, and apply a generous amount of sunscreen.
Attire recap:
Light, breathable tops and jeans
Closed toe shoes
A wide-brimmed hat, sunglasses, and sunscreen
Understanding NJ Peaches and Their Picking Season
The allure of NJ peaches is undoubtedly their taste, quality, and nutritional content. These peaches have a perfect balance of sweetness and acidity, making them perfect for eating fresh or using in various recipes. Peach picking season at Peterson Family Farm in Flemington, New Jersey commences in late July and extends until early September. However, variations can occur yearly due to weather and other environmental factors. Always consult with us directly for the most accurate information. Give us a call today!
The Top Five Things to Look for to Pick the Perfect Peach
Picking the perfect peach involves a combination of sight, touch, and smell. Here are the top five things to consider:
Color: Look for a uniform color, typically a deep yellow or orange. Green patches can indicate that the peach is not yet ripe.
Firmness: A perfect peach should yield slightly to gentle pressure. If it's too hard, it's not ripe enough; if it's too soft, it may be overripe.
Weight: A ripe peach will feel heavy for its size, indicating it's full of juice.
Texture: The skin should be free of wrinkles and not overly soft, which can be signs of an overripe or spoiled peach.
Smell: A ripe peach will have a sweet and fragrant aroma. If it doesn't smell like a peach, it's not ripe yet.
When Picking Peaches in NJ, Don't Forget to:
Check the color, firmness, weight, texture, and smell
Tips for a Successful Peach Picking Experience in New Jersey
To maximize your peach picking experience, remember the following tips. Arrive early at Peterson Family Farm to beat the afternoon heat and have access to the best selection of peaches. Handle the peaches carefully to prevent bruising, as they will ripen after you pick them.
Arrive early for the best selection
Handle peaches gently
Tips for a Successful Peach Picking Experience in New Jersey
To ensure a rewarding peach picking experience, remember the following tips. Arrive early at Peterson Family Farm to dodge the afternoon heat and secure the best selection of peaches. Choose peaches that are firm to the touch and display a uniform color. To test for ripeness, gently twist the peach; if it detaches easily, it's ripe. Handle the peaches gently to avoid bruising. Remember that the peaches you pick will ripen once you bring them home.
NJ Peach picking tips recap:
Arrive early for the best selection
Select firm, uniformly colored peaches
Handle peaches gently
Embarking on a peach picking journey in New Jersey provides an unparalleled opportunity to enjoy nature, spend quality time with loved ones, and bring home fresh, succulent peaches. Equipped with suitable clothing, knowledge about NJ peaches, and valuable tips, you're ready to make the most of your peach picking adventure at Peterson Family Farm.
For more information, please check out our other posts: